Motivation
Your motivation is what gets you started and ultimately what has you reach your goals. Here at 6X we have many ways to keep you motivated.
Training Environment


Our amazing community is a friendly environment where clients and trainers all know your name and the high-energy that comes from this will have you eager to train every week.


Rewards


We recognise you and your efforts all the way. We do this through awarding prizes for
Client of the month
Weekly challenges
Outstanding assessment results
Competition Results

Friendly Competition
We know that there's nothing better than some friendly competition to get you motivated. During the year, we host internal events and competitions to keep your motivation levels sky high. Competitions include:
Fat Loss Challenges
MYZONE Fitness Challenges
Fitness Assessment Ranking


Fitness

At 6X we are focussed on all components of health and fitness including strength, speed, stamina and flexibility. Our monthly fitness assessment will gauge where you perform in each of these components. We will test your upperbody strength, core strength, flexibility and cardio endurance in a half hour session designed to track your improvement. The fitness assessment will allow the 6X team to see which component of fitness you need to focus on and incorporate this in your next training plan.



Education
We provide education on a weekly basis via personal training, coaching or seminars. Depending on which one suits you best will determine how our team works with you to teach you everything you need to know. Not only will we teach you but we will help you apply it in every part of your life to help you reach your desired results.

Our Studio

The reception you experience when first entering the studio needs to be the best... So we installed a coffee kiosk! The friendly team of trainers, desk staff and even our own barista make your training experience unbeatable.

Gym access is available to members only. Our ability to service your training one-on-one or in a small group is our specialty but we also love seeing motivated members train on their own, in their own time... And trust us, you will be motivated!

The training environment has been designed to enhance two things, our Personal Training programs and our Max8 Group training sessions. With never more than eight people in a training zone, we can incorporate multiple training techniques and formats without ever feeling crowded or needing to alter the programs to compensate for unavailable equipment.

The training equipment we use allows us to train our clients to the fullest. From people who have never stepped foot in a gym to clientele that are striving to race, compete or further develop their athletic abilities.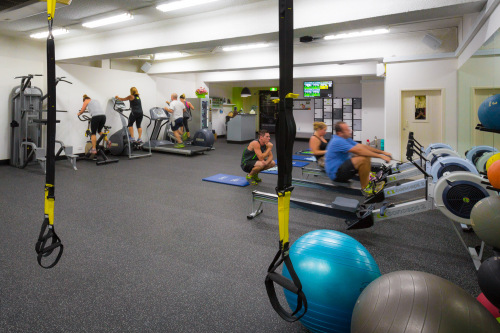 Our Services

PERSONAL TRAINING


You can train with your trainer one-on-one for either 30 or 60 minutes
Focussed personal programs ensure you train specifically for your abilities and intentions ensuring every session is worthwhile
Every four weeks, you and your trainer assess your progress and change your program accordingly
Be held accountable to your own training outside the gym
Constant contact from your trainer for nutritional motivation and ideas
Choose the same day and time each week to never miss a session again

MAX8 GROUPS
Maximum of eight participants
Pre-registered classes mean the session is designed around who is coming
Instructed by the 6X team of personal trainers, potentially your own trainer
Injury and ability is taken into consideration
Start on time and finish on time with structured classes
Periodised training sessions mean class formats change every month

Our Team
Friendly and enthusiastic
The 6X team are all certified personal trainers and trained 6X coaches
We specialise in fat loss and fitness based programming
Complete nutrition training and experience for dramatic life-long results
Passionate and motivated to help you